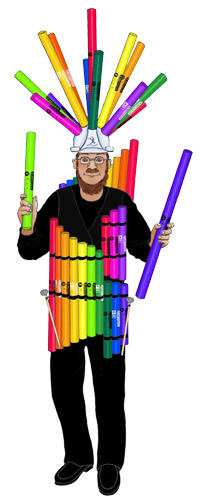 Chroma-Notes™ History
Chrome-Notes Stick-Ons removable stickers for color-coding a wide variety of musical instruments were created by founder Craig Ramsell.
Craig is also the inventor of Boomwhackers® Musical Tubes and the former president of Whacky Music, Inc., a corporation he formed in 1998 to market and distribute the musical tubes. During its existence, the company shipped over 6.7 million Boomwhackers tubes all over the world and developed and sold an entire range of accessories and support materials for the tubes, generating millions of dollars in revenue. The business was sold to Rhythm Band Instruments in 2009.
The Chroma Notes musical invention has been written up in Newsweek, the New York Times, the Washington Post and numerous other newspapers and magazines. This invention has been featured in several books, including the fascinating book, Gadget Nation – A Journey through the Eccentric World of Invention. Others include Drum Circle Spirit by Arthur Hull and Focused Synergy by Robert Van Arlen.
The Boomwhackers story as per Craig: "It was late May of 1994 - we finished a roll of gift wrap paper wrapping a birthday present for a friend. A few days later, I was preparing to put the cardboard roll into our recycle bag, but it was three feet long and the curbside pick-up requirements were no more than two feet. I figured the people that pick this stuff up curbside can be kind of particular about it being a certain way, so I decided to cut it in two.
"I grabbed one part with each hand and then did something that millions of others (including me as a kid, according to my Mom) have done over the years with cardboard tubes - I hit them on my thighs and the kitchen counter just for fun.
"Hey, I thought to myself, these things sound pretty good, and I hear different tones! I held them right next to each other. They were a little different length. Of course! Lots of musical instruments are based on that principle! If I'm hearing different pitches, they can be tuned, which means you can make music with them. Now I just need to find the right material."
And Chroma-Notes was born!