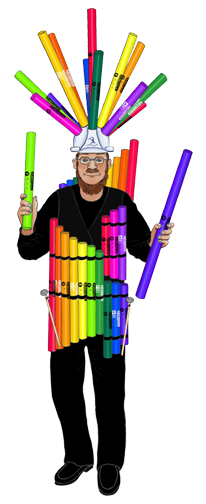 Meet the Creator
Craig Ramsell is the principal designer and creative force for the company's products: the Chroma-Notes Composer music composition / education software and the Chroma-Notes Stick-Ons removable stickers for color-coding a wide variety of musical instruments.
Craig is also the inventor of Boomwhackers® Musical Tubes and the former president of Whacky Music, Inc., a corporation he formed in 1998 to market and distribute the musical tubes.  During its existence, the company shipped over 6.7 million Boomwhackers tubes all over the world and developed and sold an entire range of accessories and support materials for the tubes, generating millions of dollars in revenue.  The business was sold to Rhythm Band Instruments in 2009.
Craig holds Bachelor of Science in Management and Master of Science in Management degrees from the Sloan School of Management at M.I.T.  He also created the music CD, Whack Tracks – The Boomwhackers® Sessions, in close collaboration with renowned guitarist Ralf Illenberger.  This CD was the first and perhaps still only full-length CD to prominently feature Boomwhackers Musical Tubes on the entire album. 
Craig and his musical invention have been written up in Newsweek, the New York Times, the Washington Post and numerous other newspapers and magazines.  He and his invention have been featured in several books, including the fascinating book, Gadget Nation – A Journey through the Eccentric World of Invention. Others include Drum Circle Spirit by Arthur Hull and Focused Synergy by Robert Van Arlen.
Craig's connection with music began in grade school, starting with what was called a song flute at the time (somewhat like a recorder) and progressing to cornet. In middle school he switched to French horn and also started to pick up the guitar and keyboard, eventually playing both in a couple local rock bands. His French horn days ended when he got to high school and the "powers that be" insisted that he play the school-provided French horn in the marching band as well as the orchestra. As he was already working 25 hours per week during the school year and full time in the summers, and, as he observed "it was hard enough to play the French horn when sitting still" he refused to play in the marching band and the school took the horn away from him.
A couple years out of college, Craig went back to the guitar and was soon deeply devoted to studying and playing classical guitar. And so it pretty much was until that fateful day in 1994 when he had the idea for what was to become the Boomwhackers tubes.
Here's the invention of Boomwhackers story in Craig's words: "It was late May of 1994 - we finished a roll of gift wrap paper wrapping a birthday present for a friend. A few days later, I was preparing to put the cardboard roll into our recycle bag, but it was three feet long and the curbside pick-up requirements were no more than two feet. I figured the people that pick this stuff up curbside can be kind of particular about it being a certain way, so I decided to cut it in two.
"I grabbed one part with each hand and then did something that millions of others (including me as a kid, according to Mom) have done over the years with cardboard tubes from paper towels or toilet paper or whatever - I hit them on my thighs and the kitchen counter just for fun.
"Hey, I thought to myself, these things sound pretty good, and I hear different tones! I held them right next to each other. They were a little different length. Of course! Lots of musical instruments are based on that principle! If I'm hearing different pitches, they can be tuned, which means you can make music with them. Now I just need to find the right material."