Music Composition / Education Software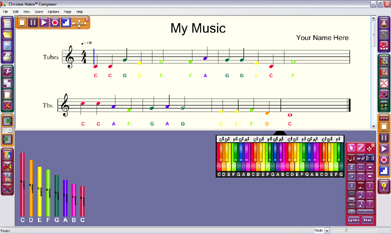 This revolutionary new software program is great for kids and anyone that wants to play and create music and be able to read music notation!  The program makes it easy to compose your own music, as well as learn about how music notation works, through the use of animated "virtual" Boomwhackers® Musical Tubes and keyboards, combined with Chroma-Notes™ color coding for the musical score.
The playful animations of the instruments make the program fun to use as well as easy and educational. In addition to its unique features, Chroma-Notes Composer has many of the music notation capabilities of much more expensive music notation programs.
Initially the program will only be available for PC, with a Mac version to follow. Anticipated pricing is a a suggested retail of $49.98 for the Standard Version and $89.98 for the Premium Version. A summary of the differences between the two versions appears below the Feature Highlights section.
PLEASE NOTE: DEVELOPMENT OF THE SOFTWARE IS ON HOLD PENDING ADDITIONAL FUNDING. I CANNOT ESTIMATE WHEN THE SOFTWARE WILL BE READY FOR RELEASE AT THIS TIME, BUT AM HOPEFUL THAT IT WILL BE DONE BY MID-2015. MY SINCERE APOLOGIES TO EVERYONE THAT'S BEEN EAGERLY AWAITING THE RELEASE OF THIS SOFTWARE! IF YOU KNOW ANYONE THAT MIGHT BE INTERESTED IN PROVIDING SIGNIFICANT FUNDING ASSISTANCE, PLEASE HAVE THEM CONTACT ME. - Craig
Some Chroma-Notes Composer Feature Highlights:
Allows users to compose and play back their own original compositions.
Uses the Chroma-Notes Colored Music System for easier music reading and learning, and can easily switch to standard black musical notes.
Uses three different options for different sets of Boomwhackers Musical Tubes, allowing for simpler or more complex musical creations.
Uses 4 different virtual keyboards, including both colored and standard white and black keys.
Works with MIDI keyboards for direct recording.

Provides the user with lots of flexibility with how they use the program while still providing a simple user interface.
Ties the animations of the musical tubes and keyboard so that users can see the relationship between the two.
Makes it possible to print the compositions in color with a color printer.
Has an option to label the musical notes for either or both of the virtual instruments and on the score itself to aid in reading and learning music.
Allows for multiple parts and/or multiple instrument sounds for more complex scores.

STANDARD VS. PREMIUM VERSIONS
As noted above, there will be two versions of the software: the Standard Version with a suggested retail of $49.98 and the Premium Version with a suggested retail of $89.98. A summary of the differences between the two versions appears below.